Become an integral part of Compass Ireland
Behind Compass Ireland, the country's number one catering provider, is a team of driven and forward-thinking Operations Managers.
If you're someone who thinks strategically, with exceptional organisational skills and a passion for ensuring that everything you're involved in runs smoothly, you may be the perfect fit for one of our dynamic operations roles.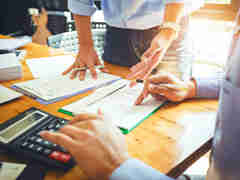 Big ideas, huge rewards
As one of our Operations Managers, you'll be highly visible. You'll be responsible for managing single units, multi-site and multi-service contracts, in addition to making important commercial decisions and relaying them to clients and senior leaders constructively.
You'll also have the chance to bring your ideas, energy and relentless obsession with perfection to the roster of exciting clients we work with as a representative of Compass Ireland.  
Stepping into an operations role with Compass Ireland will also allow you to work in a supportive capacity, as you oversee our teams and help them achieve the high-quality service standards we're known for. 
Find Out More
We pride ourselves on creating collaborative relationships and brilliant team environments, and your infectiously positive approach will remain key to our success. 
In operations, the opportunities to work in exciting locations – here or across the global Compass family – are simply endless. If you're excited by the opportunity to bring your experience in operations to our portfolio of clients, we want to hear from you. 
Contact Us
Get in touch with Compass Ireland. We're always happy to help.