Shaping the future of sustainable food experiences
From the ingredients we source to the transportation systems we use, we're always looking for opportunities to make an impact across every level of the Compass Ireland business. To create rewarding food experiences for our clients, we need to focus on more than just flavour.
We're here to inspire an innovative new way of preparing and delivering great-tasting food, one that operates with social and environmental responsibility at the forefront. That's why we're the first food services company in Ireland to create and commit to our own net-zero plan.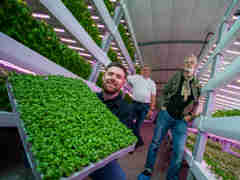 Our Climate Promise
We're serious about our climate promise. We've also signed up to Business in the Community Ireland's Low Carbon Pledge and the UN's Race to Zero campaign with the goal of reaching net-zero greenhouse gas emissions by 2030.
By 2030, our menus will see a 40% switch towards plant-based proteins and 70% of the fresh meat, dairy and vegetables in our kitchens will be sourced from regenerative agriculture.
We've also committed to 100% reusable or recyclable packaging in 2022! So, our clients will enjoy the same transformational food experiences, with a much smaller carbon footprint.
Our sustainability strategy
Compass Ireland's sustainability strategy focuses on three priority areas. Within each of these, we've identified specific areas where we are currently working on driving change.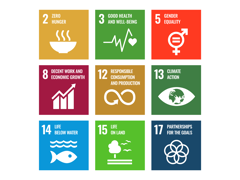 OUR SUSTAINABLE DEVELOPMENT GOALS
We support the United Nations' Sustainable Development Goals (SDGs) which were agreed by world leaders and through our Sustainability Framework.
Compass Ireland is contributing to nine of the 17 SDGs:
Contact Us
Get in touch with Compass Ireland. We're always happy to help.