Working with awe-inspiring people, every day
We're dedicated to investing in every member of the Compass Ireland team and consistently bettering our company culture. That's what makes us Ireland's favourite food service partner.
Our people are simply fantastic. They breathe life into our brands. They make great things happen. Every day, they go above and beyond to make our clients and customers smile. From helping businesses meet their sustainability goals to putting perfectly brewed cups of coffee in the hands of busy employees, our teams are vital to making every Compass Ireland experience even better.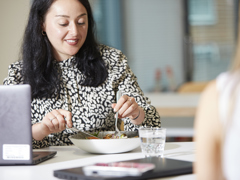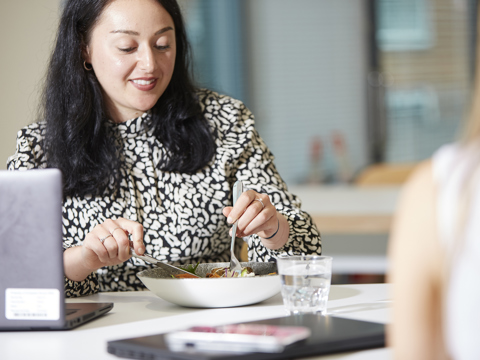 Brightening your day
Every day, in every corner of the country, 1,500 members of the Compass Ireland family are brightening mornings, afternoons and evenings for our clients and their customers. They're not just at the heart of our business – our people are our business.
We need more people like them, which is why we're pulling out all the stops to offer the very best training programmes and employee benefits in Ireland. We know better than anyone that brilliant employees help us to deliver a world-class service and we're committed to recruiting and retaining exceptional people who always go above and beyond.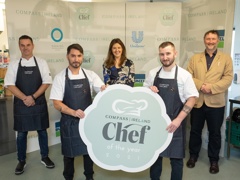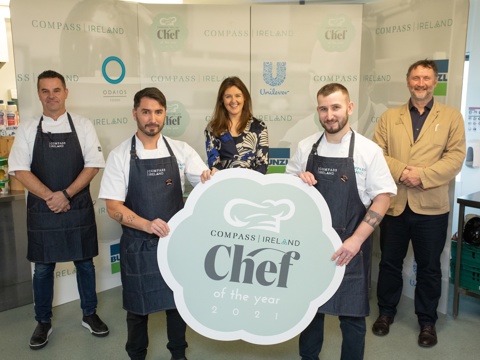 Compass Ireland Chef of the Year 2021
At Compass Ireland, we wholeheartedly believe that a combination of passion, ambition and support can help our people go above and beyond. Proving this is Greg Niewiadomski, one of our talented senior sous chefs and Compass Ireland Chef of the Year 2021.  
Greg first brought his culinary flair to the Compass Ireland family more than eight years ago after a chance encounter with Chef Richie Murray. He quickly became a vital ingredient in our food partnership with Google, having been invited to join the team by Culinary Director Shay Kendrick himself. 
Today, you'll find Greg mentoring his own team, striving for head chef responsibilities and collecting more gold trophies! 
Awarding five-star culinary skills
Confit Egg Yolk, Chanterelles and Chicken Bone Broth, followed by Barley Miso Hispi, Fermented Blackberry and Glazed Chicken, were the dishes that saw Greg become our Chef of the Year 2021. Each dish reflects his passion for sustainable, ethical cooking that focuses on using every cut of the animal. 
Greg is also fascinated by fermentation, saying, "I was inspired by an ethos of looking back to look forward. Fermentation has been around for thousands of years and in recent years has been brought back to my life." 
Watch Greg in action and take a sneak peek at the dishes that most impressed our panel of culinary experts!  
Discover rewarding careers
We make it our mission to recruit talented people and help them to thrive, rewarding excellence every step of the way.
Diversity & Inclusion

We're dedicated to ensuring that every member of our team enjoys equal opportunities to achieve their full potential.

Rewards & Recognition

We're always looking for ways to show the Compass Ireland family how much they're appreciated, with schemes and perks that work for them.

Learning & Development

We're committed to providing rewarding opportunities for employees to develop their careers, achieve their full potential, and make a difference.
Contact Us
Get in touch with Compass Ireland. We're always happy to help.