Proud to champion local Irish suppliers
We know that to deliver food services that celebrate our Irish heritage, reduce our environmental footprint, and improve our clients' mental and physical wellbeing, we need to source our ingredients from truly passionate local suppliers who share our vision for excellence.  
That's why we invest in cultivating powerful partnerships with the most forward-thinking farmers and growers in Ireland, with 70% of our total produce sourced from Irish suppliers. If we're unable to source a particular product from within the country, we commit to purchasing through an Irish wholesaler or distributor to ensure our money is spent close to home. We're also proud to source 100% of our red meat, milk, eggs and vegetables from local Irish farms, with some of our partnerships spanning longer than seven years!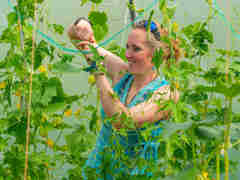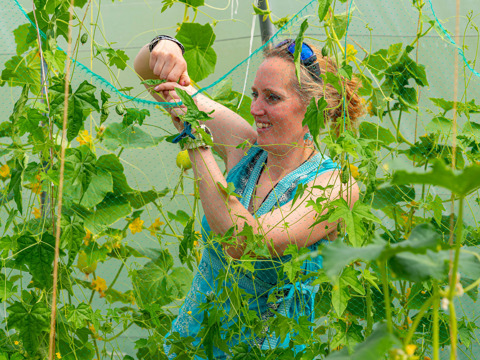 LYNSAY ORTON
Location: Ross Hazel Farm, County Meath 
How long we've been working with Lynsay:
Our partnership with Ross Hazel Farm began in 2016, and we're proud to have been working side by side with Lynsay ever since. We've even committed to purchasing every ounce of her delicious produce for the next three years, giving Lynsay the security she needs to continue developing Ross Hazel Farm alongside her little helpers (her children!).


Cooking with Lynsay's home-grown crops:
Ross Hazel Farm may have its roots in mushroom farming, but it's now a large, artisanal holding producing a diverse range of fruit and vegetable varieties for Compass Ireland kitchens – including courgettes, tomatoes, cucumbers, aubergines and beans!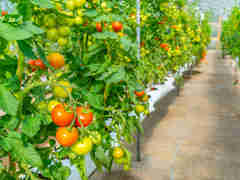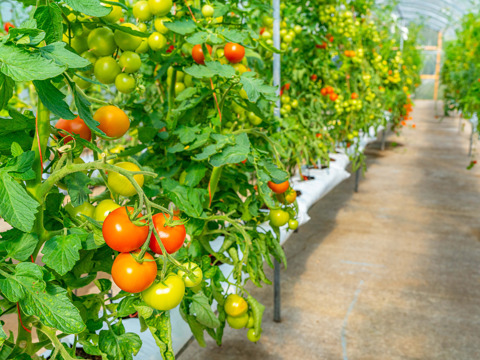 Promoting sustainability on Ross Hazel Farm:
Lynsay is truly passionate about sustainable farming and aims to promote biodiversity by encouraging natural bee pollination and avoiding pesticides.  
Just as Lynsay supplies our kitchens with her lovingly grown produce, we collect and share organic waste from our partnerships to aid her compost production, helping to support Ross Hazel Farm's ongoing commitment to environmentally friendly agriculture.


What Compass Ireland Managing Director Deirdre O'Neill says:  
"Ross Hazel is an example of how commercial production and caring for the land can go together. Sourcing produce from Lynsay's farm rather than importing, reduces our carbon footprint, supports Irish farmers and allows us to bring lots of new food ideas to our customers."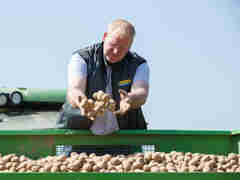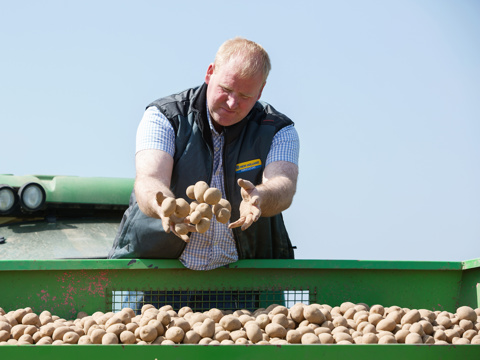 John Thorne
Location: Balbriggan, North County Dublin  
Partnering with John on Project Homegrown:  
We're proud to partner with John on Project Homegrown, our sustainable farming initiative tasked with reviving three almost extinct varieties of Ireland's most valuable heritage crop – the potato.  
Using environmentally responsible farming methods, John grows Druid, Orla and Setanta potatoes, alongside a variety of other root vegetables, from his fields in North County Dublin.


How long we've been working with John:  
We've been working alongside John on Project Homegrown since 2017, and continue to develop a strong partnership dedicated to championing sustainable farming methods. Together, we're also equipping other food service providers with a template for how they can stimulate positive change.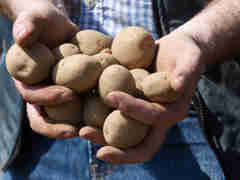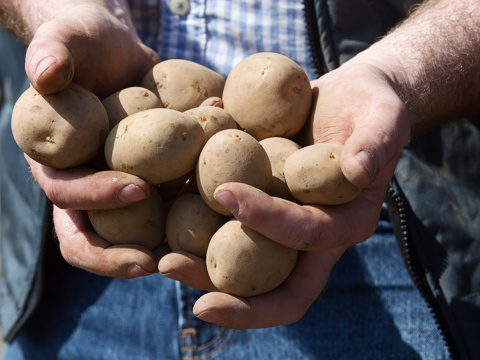 Cooking with John's home-grown produce: 
In  2017, we purchased 100% of John's Project Homegrown yield as part of our commitment to developing a partnership rooted in trust. Today, our chefs continue to cook with John's Druid, Orla and Setanta potatoes, alongside a range of his delicious turnips, parsnips and carrots! 


What John says:  
"As a vegetable farmer, I rely on the land for my livelihood and I want to ensure that these fields can continue to support me and my family for coming generations.  The agriculture industry has a responsibility to adapt and modernise our methods to help reduce carbon footprints and it is exciting to be working with Compass Group to make strides towards a greener form of farming."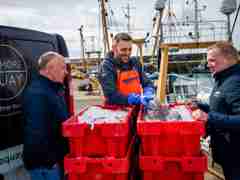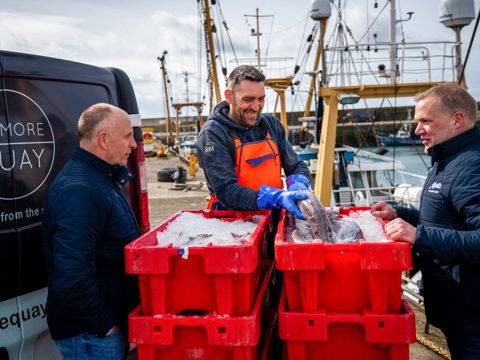 John Kenny
Location: Atlantis of Kilmore Quay, Wexford 
Sourcing the freshest produce from John:
As part of our commitment to removing imported fish from our Compass Ireland kitchens, we source only the freshest, Irish-caught fish from Atlantis of Kilmore Quay. Our clients and customers deserve the finest seafood, and that's what we deliver with support from John and his skippers!  
How long we've been working with John:
We've been sourcing our delicious seafood from Atlantis of Kilmore Quay since 2013. We've also committed to the Captain's Catch pledge, which assures John and his teams that their catch will be used in our kitchens.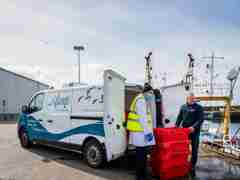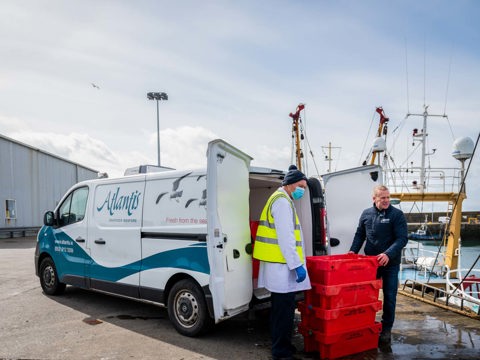 Championing sustainable fishing: 
We're proud to work side by side with John to promote sustainable fishing methods in Irish waters. Atlantis of Kilmore Quay is currently working towards its Fishery Improvement Project (FIP) accreditation for hake and haddock, which we're supporting by sourcing only sustainably caught seafood from John and his skippers.


What Ed Fagan, Commercial Lead of our partnership, says: 
"I've known John for over 7 years and he epitomises partnership and reliability. His passion for sustainability and innovation is why we continue to renew our partnership. He is at the top of his game."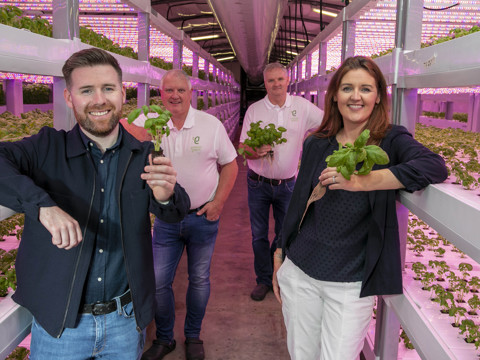 Brian O'Reilly
Location: Emerald Greens, Tipperary
Bringing the flavour to Compass Ireland with Brian's produce:  
Thanks to Emerald Greens, we source the freshest basil from right here in Ireland. We pride ourselves on our great-tasting food, and it's thanks to innovative herb farmers like Brian that we're able to season our dishes so beautifully!


The only way is up for Emerald Greens: 
Brian may have spent almost 20 years growing mushrooms, but he has since become Ireland's commercial vertical farming pioneer! Emerald Greens now grows fresh basil using innovative vertical farming methods, and is set to diversify its yield with other leafy green varieties over the next few years.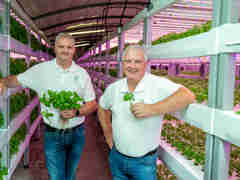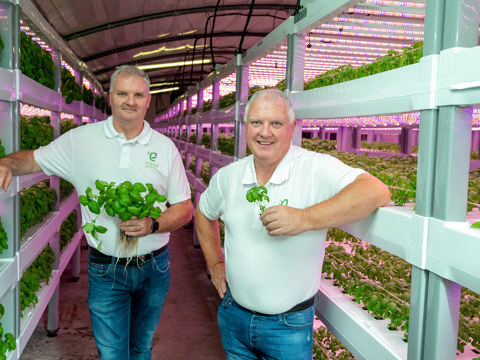 How long we've been working with Brian:  
We began working alongside Brian in early 2021, and are excited to continue developing a partnership rooted in innovation and sustainability.
We've committed to purchasing 25% of Emerald Green's first basil yield alongside our fruit and vegetable wholesalers, Readychef, and are collaborating with Brian on the launch of future vertical farm initiatives.


What Ed Fagan, Commercial Lead of our partnership, says: 
"Through our partnership with Brian, we're able to source sustainable, Irish-grown produce, limit how much we rely upon imported ingredients, and support local farmers who share our vision for a more environmentally responsible food industry."
Contact Us
Get in touch with Compass Ireland. We're always happy to help.