Join the Compass Ireland family for careers that reward
Joining Compass Ireland means stepping into a supportive network of incredible individuals, each united by their passion for going the extra mile for the organisations we partner with.
Our job roles empower people to unlock their potential and explore new possibilities – no matter their skillset or aspirations -  with collaborative work environments that ensure everyone feels at home. We are:
More than just food
When you join the Compass Ireland family, you'll play an integral role in creating meaningful food experiences for our clients and customers. Whether you're cooking up fresh new flavours in the kitchen, serving coffee to busy office employees, or ensuring customers have a sparkling clean dining area to refresh between shifts, you'll deliver on our promise to make food work for our clients.
In return, you'll enjoy varied roles with tailored training programmes, bespoke development plans, and plenty of recognition for your hard work and dedication.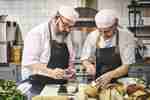 Driven by individuality
We're committed to cultivating workplaces where our people feel appreciated, welcome and inspired, every day. We're not looking for another cog in our machine, but talented individuals whose personality and fresh ideas have a chance to shine through.
Our food experiences aren't built on one-size-fits-all solutions, and neither are our teams. We celebrate diversity and inclusivity, and proudly work alongside talented individuals from all backgrounds as an equal opportunities employer.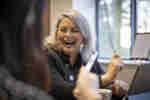 A team you can trust
We pride ourselves on delivering the highest quality food services to our clients and customers, and consistently go the extra mile to improve and adapt how we do so. As part of the Compass Ireland family, you'll thrive in a role where you can make a difference.
Every day, you'll work in dynamic environments alongside highly skilled individuals who empower you to go further. If you're searching for your next job opportunity in a market-leading company that truly invests in its people, we want to hear from you.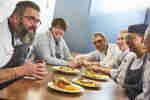 Discover rewarding careers
We make it our mission to recruit talented people and help them to thrive, rewarding excellence every step of the way.
Diversity & Inclusion

We're dedicated to ensuring that every member of our team enjoys equal opportunities to achieve their full potential.

Rewards & Recognition

We're always looking for ways to show the Compass Ireland family how much they're appreciated, with schemes and perks that work for them.

Learning & Development

We're committed to providing rewarding opportunities for employees to develop their careers, achieve their full potential, and make a difference.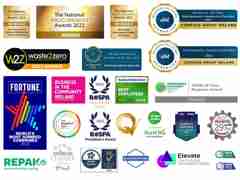 Our Awards & Accreditations
We're proud to provide award-winning catering services to our partners throughout the country.
At Compass Ireland, we're dedicated to building a better world through sourcing sustainably, helping our communities, and creating a more inclusive workplace for the whole Compass family.
Contact Us
Get in touch with Compass Ireland. We're always happy to help.