Stop Food Waste Day is about educating and igniting change…
Our Mission
We strive to educate and ignite change regarding the global food waste epidemic that we are currently facing. Our goal is to draw attention to the problem as well as create and share creative and impactful solutions. Educated consumers can have tremendous influence on how we farm, produce, buy, store and use our food.
"Food waste is a serious problem for the world today, and as a leader in food service, we are determined to play our part in driving change. Working with our suppliers, partners, clients and consumers in Ireland, we are focused on educating our teams and our customers on how they can play their part in cutting food waste, today and every day."
Deirdre O'Neill, Managing Director, Compass Group Ireland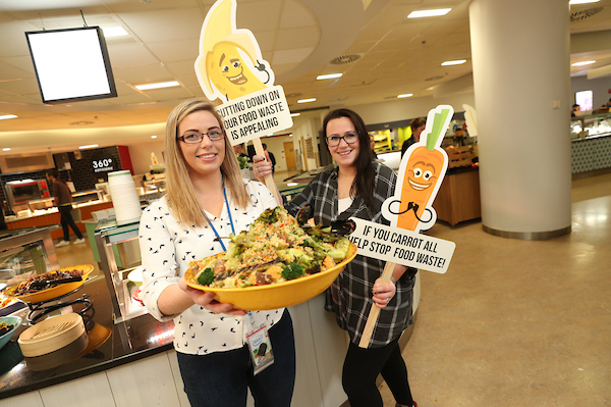 Why Stop Food Waste?
Food waste is a global issue with a wide variety of environmental, social and economic impacts. We need to unite in driving education as well as make tangible changes to the culture around food. The scale of the food waste problem is staggering. Globally:
33% of all food produced globally is wasted every year.
If food waste were a country, it would be the third largest greenhouse gas emission producing country in the world.
45% of all fruit and vegetables produced globally is wasted every year globally which is equivalent to about 3.7 trillion apples.
If 25% of the food, currently lost or wasted were saved, it would be enough to feed 870 million hungry people.
Playing our part
Compass Group Ireland has committed to reducing its food waste by 20% by 2025. Compass Group clients and staff in Ireland will come together to focus on reducing food surplus and marketing materials to raise awareness of ways to save at home. Other activities include:
Customer Workshops on No Waste – How to utilise leftovers and trimmings utilising leftovers and using trimmings
A series of team briefings with staff on reducing food waste in their unit
Dedicated Culinary Council Meeting of all Compass Group head chefs to develop new recipes around food waste
Introduce the Food Liberation concept across the business – this is a new concept which focuses on creating great flavour and food experiences that are better for people and the planet. The aim is to minimise food waste one dish at a time by deploying stem to tip recipes which incorporate every part of the vegetable. Stalks and all!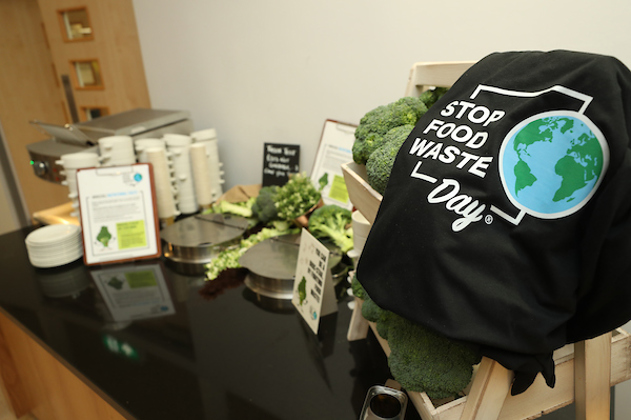 Compass Group Ireland's food waste achievements:
Since 2014 Compass Group Ireland partnered with technology company, Winnow whose 'smart scales' technology enables commercial kitchens to measure and better manage food waste. Since 2014, food waste has been cut across the 12 Ireland sites. In the last quarter of 2018, 15 tonnes of food waste and 67 tonnes of CO2 emissions were saved.
Compass Group Ireland actively choose to buy visually imperfect produce for certain recipes to help reduce unneeded waste. In 2018 alone, we used over 68,000KG's of imperfect produce.
At a number of sites, Compass Group Ireland bag up coffee ground waste and offer them free to consumers for use in their gardens. Using coffee grounds as a fertiliser adds organic material to the soil, which improves drainage, water retention and aeration in the soil. The used coffee grounds also attract earthworms and help other beneficial microorganisms thrive.
In 2018 Compass Group Ireland recycled over 110,000 litres of used cooking oil into biodiesel.
Compass Group Ireland has partnered with Ready Chef to jointly tackle food waste in the supply chain and actively buy leftover fruit and veg waste generated by the preparation line.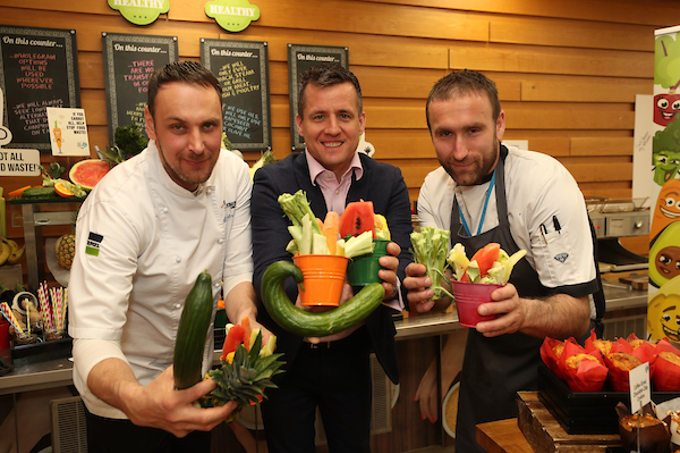 Tips to reduce food waste
1 – MAKE A LIST
A family of four loses €700 a year on wasted food. Plan ahead by making a list and only buying what you know you'll need.
2 – LEARN THE ART OF FREEZING
Each of us tosses nearly 300 lbs. of food each year. Get in the habit of freezing leftovers, bread, vegetables and fruit, instead of tossing them in the garbage.
3 – HELP SAVE WATER
Wasting a pound of beef is equivalent to running the shower for 370 minutes. The longer meat is left out in room temperature, the quicker it will spoil. Always shop for meat, poultry and seafood last and go directly home to put it away.
4 – REVIVE YOUR VEGGIES
A quick soak in ice water for 5-10 minutes can revive wilted veggies. Even if they can't be restored, some veggies you intended to eat raw in your salad can still shine in a cooked dish.
5 – OVERCOOKED ISN'T OVER FOR GOOD
Overcooked vegetables can always be transformed into soups or sauces. Just toss them in the blender with soup stock, milk, or cream. Vegetables like broccoli, carrots, cauliflower and potatoes are excellent for this.
6 – LESS AIR = LESS FREEZER BURN
You probably won't eat a whole loaf of bread at once, so slice it up and pop it in the freezer. Always squeeze any excess air from plastic bags and containers. Freezer burn is harmless but does affect taste.
7 – DON'T BE BANANAS
Browning or spoiled bananas are perfectly fine to eat. Bruised parts of bananas may be easily cut away or used. Very brown bananas and frozen bananas are great for baking quick breads, muffins, or cakes.
8 – WASTE LESS WITH KIDS
Start with small portions and minimize untouched food. We want our kids to try new foods, but studies show many children have to try a food up to 15 times before accepting it. You can always offer seconds when they're interested.
9 – USE IT UP
90% of us throw away food too soon. Utilize recipes during the week that will use up the food that's about to go bad in your pantry or refrigerator. Just because your lettuce is wilted doesn't mean it's time to toss it.
10 – GET CREATIVE
40% of food in IRELAND is wasted. Avoid wasting food by seeing what needs to be used up before you go to the grocery store. Pick one night a week to get creative with leftovers! Make it a family event and get everyone involved.
Source: savethefood.com