We have some exciting news – Compass Ireland has been named 'Most Innovative Foodservice Provider 2022' by All-Ireland Business Foundation (AIBF) for the second year in a row.
A company driven by innovation
Our goal at Compass Ireland is to deliver truly meaningful food experiences for Ireland's businesses. We don't just stick with tried and tested or one-size-fits-all methods – instead, we tailor our approach to our clients' individual needs to achieve the most transformative outcomes. It's a proud moment for us here at the Compass Ireland family to have these efforts recognised two years in a row.
The Business All-Stars Accreditation shines a light on the best and brightest businesses in Ireland. We're passionate about going above and beyond for the local communities we're part of, and receiving this award confirms that our forward-thinking approach to food services is doing just that.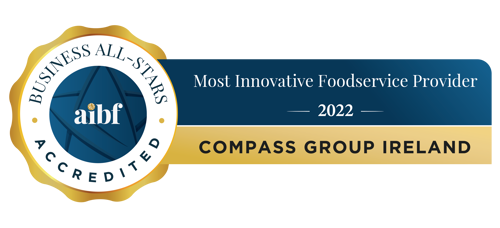 Pioneering catering solutions through technology
With consumer expectations evolving, our knowledge of health and wellbeing improving, and the pressure for businesses to provide varied and convenient food options increasing, the world of food services is one we need to keep up with.
One way we approach this ever-evolving landscape is through progressive catering technology. So far, we've implemented contactless payment solutions, developed intuitive meal ordering mobile apps like Feedr and Time2Eat, and helped businesses reduce food waste by up to 70% with our DigiTally app. We've also designed and installed transformative, AI-led shopping experiences like Ireland's first ever completely checkout-free store.
Leading the industry with sustainable suppliers
As Ireland's leading food service provider, we know we have a responsibility to help protect and preserve our planet. We're proud to be partnered with brilliant local suppliers who bring our food experiences to life with incredible ingredients and innovative farming methods. Together, we are leading the food service industry towards a more sustainable future.
Our Managing Director here at Compass Ireland, Deirdre O'Neill, says:
"I've seen first-hand the tireless work my team has put into achieving this recognition from the AIBF. We didn't seek innovation for the sake of it, but to find a better way of navigating the obstacles faced by our clients and our own business.
Addressing the food waste crisis, significantly reducing our carbon footprint, meeting the demands of a post-Covid workspace through launching Ireland's first frictionless store… These are just a few examples of the critical issues that needed a new way of thinking.
The most exciting part is that I feel our journey has only just begun and that the Compass Ireland team are ready to face whatever challenge this industry throws our way."
And Deputy Chair on the Adjudication Board of AIBF, Kieran Ring said in support of our accreditation:
'Compass Group Ireland has achieved All-Star Most Innovative Foodservice Provider 2022 Accreditation. The accreditation is in recognition of Compass Group's outstanding contribution to quality and standards in the foodservice provision sector. Furthermore, we wish to recognise Compass Group's conduct in the areas of trust, commitment, performance & customer-centricity. Compass Group Ireland is hereby included in the AIBF Register Of Irish Business Excellence for the second consecutive year.'
If you're interested in hearing more about our innovative, award-winning food services, please contact us. We'd love to hear from you.