RCSI welcomed the latest round of 'Be A Star' award winners and their nominators to dine, drink and schmooze alongside Managing Director, Deirdre O'Neill and the Exec team.
Guests were treated to a 4-course fine-dining feast prepared by the faultless RCSI team, supported by some of the finest Compass Ireland culinary technicians.
The occasion served as a fitting reminder of what makes Compass Ireland THE go-to food service family: an unmistakable passion for food and a team spirit that can't be shaken.
A little bit of history…
The flagship reward and recognition programme, Be A Star, was re-launched in 2021 as a means to recognise and champion exemplary and inspirational employees.
Be A Star asks teams to nominate colleagues across three categories, who have gone above and beyond in: Helping Colleagues, Delighting Customers and Supporting Communities.
These people work across Compass Ireland sectors including business, industry and education, representing a full spectrum of frontline heroes, from roles such as porters and baristas to chefs, supervisors and central support functions.
All winners, AND the colleagues who nominated them, are now given a paid day off to attend a celebratory 'lunch is on us' event hosted at landmark venues across Ireland and the United Kingdom.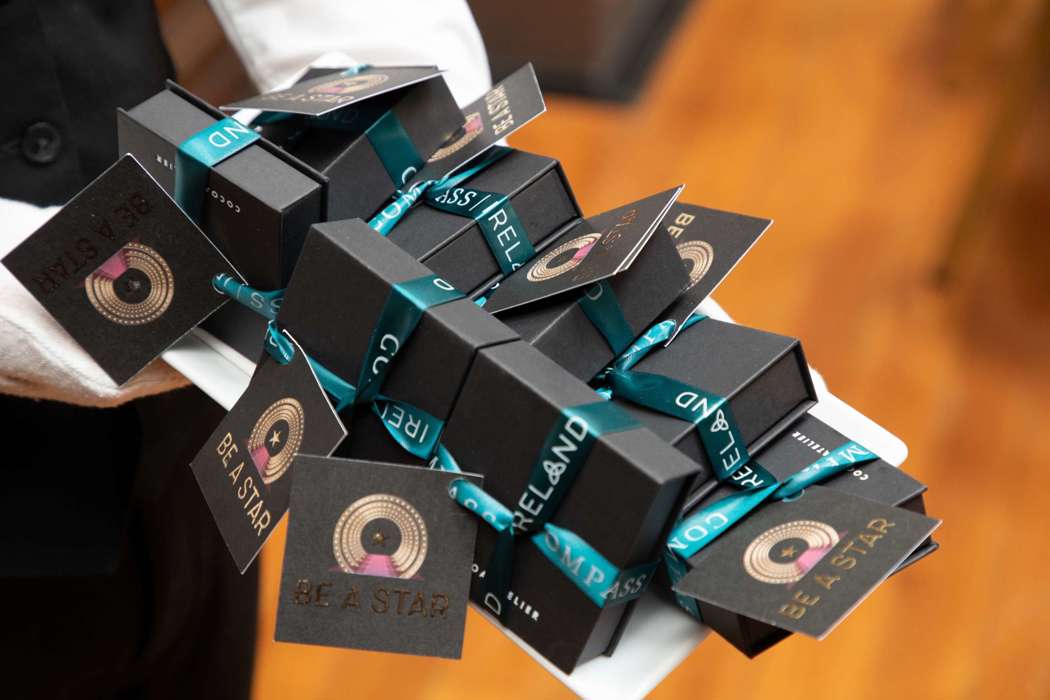 On the honours roll
This quarter's awards featured one of the lengthiest guestlists on record, as Dee and the exec welcomed 36 winners and 23 nominators to bask in the spotlight.
The nominations ranged from inspirational personal development stories to cases of exemplary customer service, each one as deserved as the next. Here's a taste of what it takes to enter the winner's circle…
Winner: Tanusha Thilakarathna
"Recently Tanusha has done nothing but grow - she's come so far in such a short space of time. Instead of following standard procedures she actually creates better processes - upskilling not only herself but her peers as well. As part of the finance team, she is doing wonderful things".
Nominator: Tarryn Salzwedel
Winner: Shane Farrell
"Shane brings such a vivacious energy to his department and the wider team - he is so capable and smart, it's a joy to watch him at work. He's an integral part of the team and a trusted advisor to many. Despite this, Shane talks honestly and openly about his lack of self-confidence. That is why I am nominating him. I want him to realise the great impact he makes to the team, that he's doing a great job and deserves this recognition."
Nominator: Leah Gunn
Winner: Mariana Arrana
"Beloved barista Mariana is a valued part of our team. She's full of positive energy that brings smiles to everyone's faces and she delivers exceptional service whilst always looking for new creative ways to delight customers. I receive positive feedback for her every day - people travel from other units on campus just to see Mariana and to drink her "full of love" coffee."
Nominator: Paulina Wieteszka
Final thoughts
Congratulations to our winners, big thanks to their nominators and extra lofty high fives to the cast of dozens who helped to execute yet another unforgettable event.
Judging by the feedback we've received, it's safe to say that the team had a blast! We asked attendees to share some of their highlights following an unforgettable day at RCSI…
"Everyone from the highest positions to the lower positions within Compass Ireland mingling and enjoying each other's company."
"Meeting people from other units, the food was unbelievably tasty and well presented. There was a great atmosphere and loads of laughs!"
"The food was the extra mile! Venue was amazing as well."
"Great venue, excellent food, great service."
"…The massive sense of pride I felt for my colleagues!"
| | |
| --- | --- |
| Francesco Addoniizio | Sabrina Kelly |
| Madalina Andrici | Nick Kilduff |
| Mariana Arrana | Mariana Lampert |
| Nicola Barrett | Michelle Macken Moore |
| Craig Bester | Denis Madigan |
| Maria Silva Conceicao | Wendy Meridith |
| Paul Curran | Dariusz Monkiewicz |
| Christina Duffy | Daiva Pusvaske |
| Nathan Durkin | Ruth Reid |
| Shane Farrell | Angela Rooney |
| Carol Ferguson | Jolanta Silinskiene |
| Monika Figan | Maricica Stoiadin |
| Gustavo Fornaro | Loredana Stupu |
| Matteo Frusciante | Zaneta Styrna |
| John Galliga | Tanusha Thilakarathna |
| Denisa Gherman | Mayara Vargas |
| Gabriele Guadaithe | Natalie White |
| Maciej Hildebrandt | Halina Woszczyna |
| Adrianne Keary |   |