A Taste of Things to Come… A Look Back at this year's 'Taste of Dublin' Food Festival
In August 2021, Compass Ireland announced an ambitious re-launch following an action-packed 24 months of business transformation. New leadership, a host of new services and brands, including the introduction of Feedr and the Copper Pan Kitchen, and underpinning it all, a stout commitment to support the local Irish Food scene through an exciting new partnership with Irish Village Markets.
To mark the occasion, Compass Ireland joined forces with the Taste of Dublin Festival to sponsor the event's biggest draw, 'The Taste Theatre,' and the first ever Chef's Green Room.
It was part foodie celebration, part foodie liberation as thousands threw off the lockdown cobwebs to descend upon a picturesque Iveagh Gardens to experience Dublin's biggest (and best) food festival. Joining them, a who's who of Irish culinary royalty, media and some very special guests…
So how did it all go? Here's a round-up of our time at the Taste of Dublin Festival…
Celebrating a new Start  
The Taste of Dublin Festival hinted at a powerful milestone in the journey to a world beyond the pandemic: the long-awaited return of the Food and Hospitality Industry.
Suppliers, Vendors and enthusiasts joined together in a celebration of the culinary arts, united by a shared love of food, drink and community.
It was the perfect setting to showcase our new look and feel, featuring the Celtic trinity knot - or 'triquetra ' - an unmistakable emblem of Irish heritage and culture.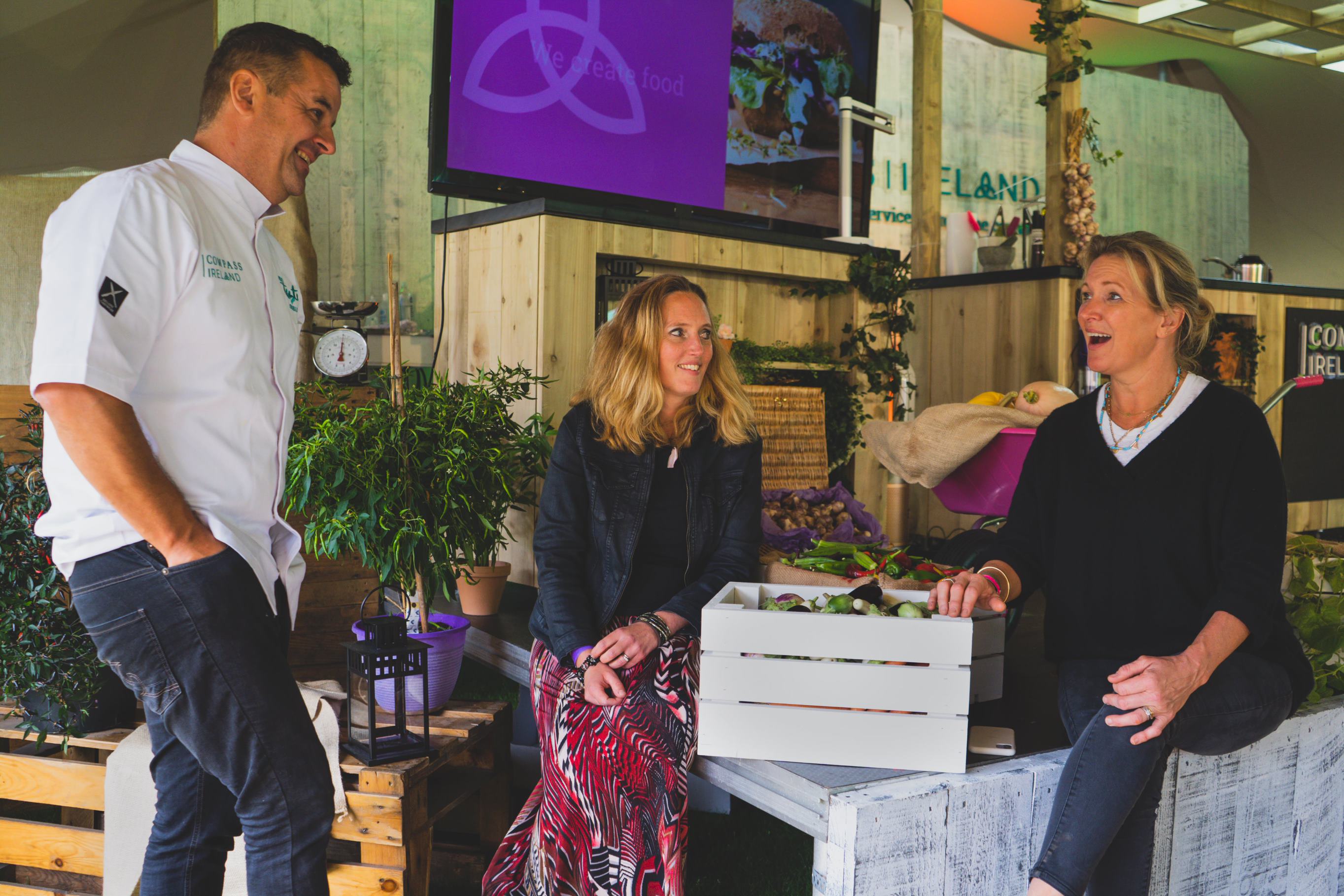 For us, it symbolises the perfect balance of Nourishment, Sustainability & Wellness, three pillars to guide the way we do things at Compass Ireland. 
Visitors to the Taste Theatre and Green Room would have been hard-pressed to miss it, with everything from Chef's whites to digital displays featuring the distinctive new Compass Ireland logo. 
Introducing the Taste Theatre
Q: What do culinary personalities Kevin Thornton, Rachel Allen, Aisling Larkin, Kevin Dundon and our very own Shay Kendrick share in common?
A: Other than a love of food, they've all graced the Taste Theatre stage in partnership with Compass Ireland, showcasing their signature dishes LIVE to a captivated Taste audience.
It was the perfect setting to watch the best of the best flex their impressive kitchen skills, braising, blanching, pickling, grilling, poaching and flambéing their way through a range of delicious recipes under the bright lights of the Taste tent.
A proud moment then, for Compass Ireland Culinary Director Shay Kendrick, who opened the stage with recently announced Compass Ireland mentor, Kevin Thornton, to produce a dazzling display of cooking wizardry.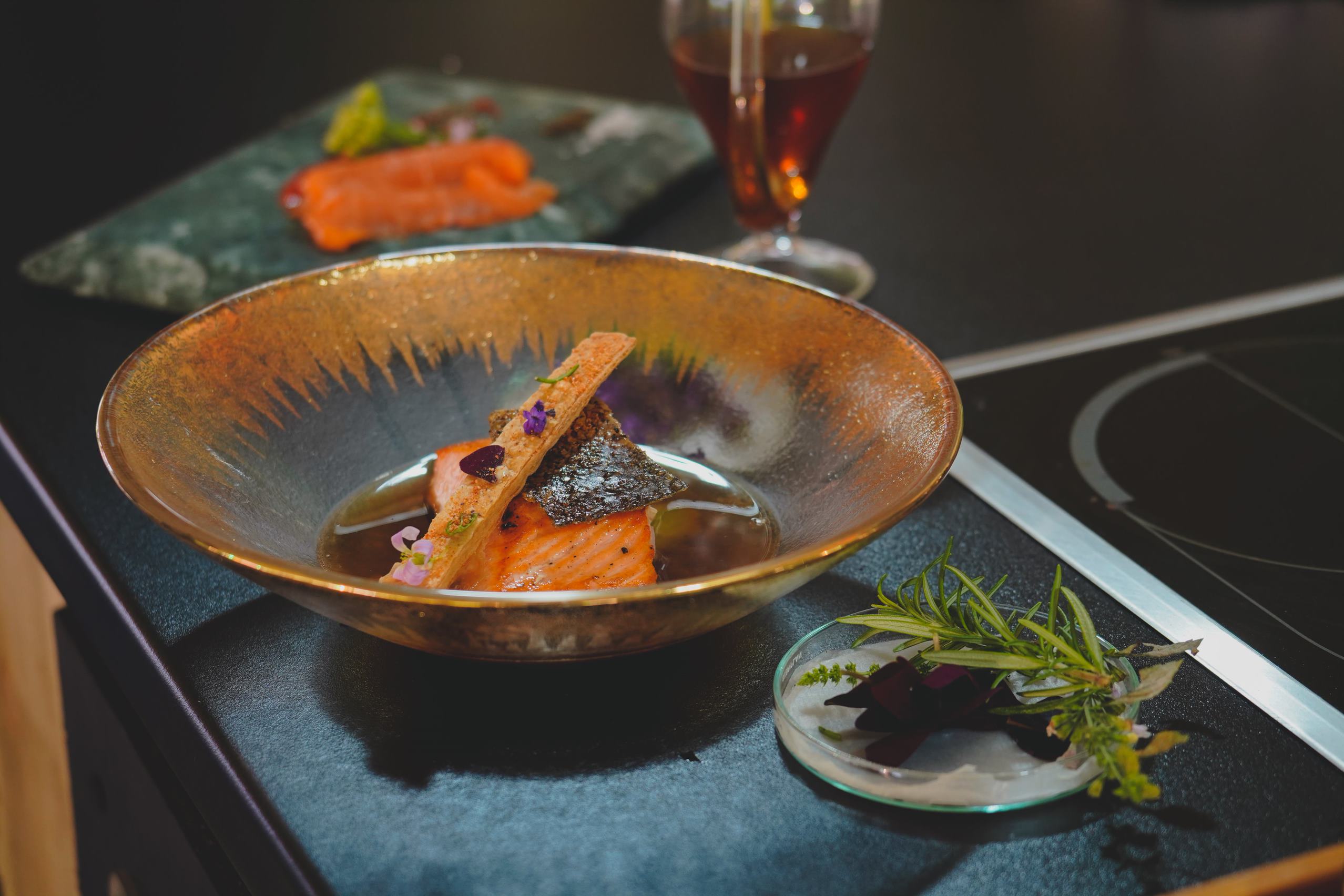 The dynamic duo set about preparing trout three ways (sautéed, sashimi and maki roll) - an ambitious task given the 30-minute slot but expertly executed, nonetheless. 
The dish was proof of the rich depth of incredible local ingredients available on these shores; the sustainable Goatsbridge sea trout was garnished with lemongrass broth, sautéed tomatoes and okra grown by Lynsay Orton of Ross Hazel Farm, with a chilli and garlic sauce.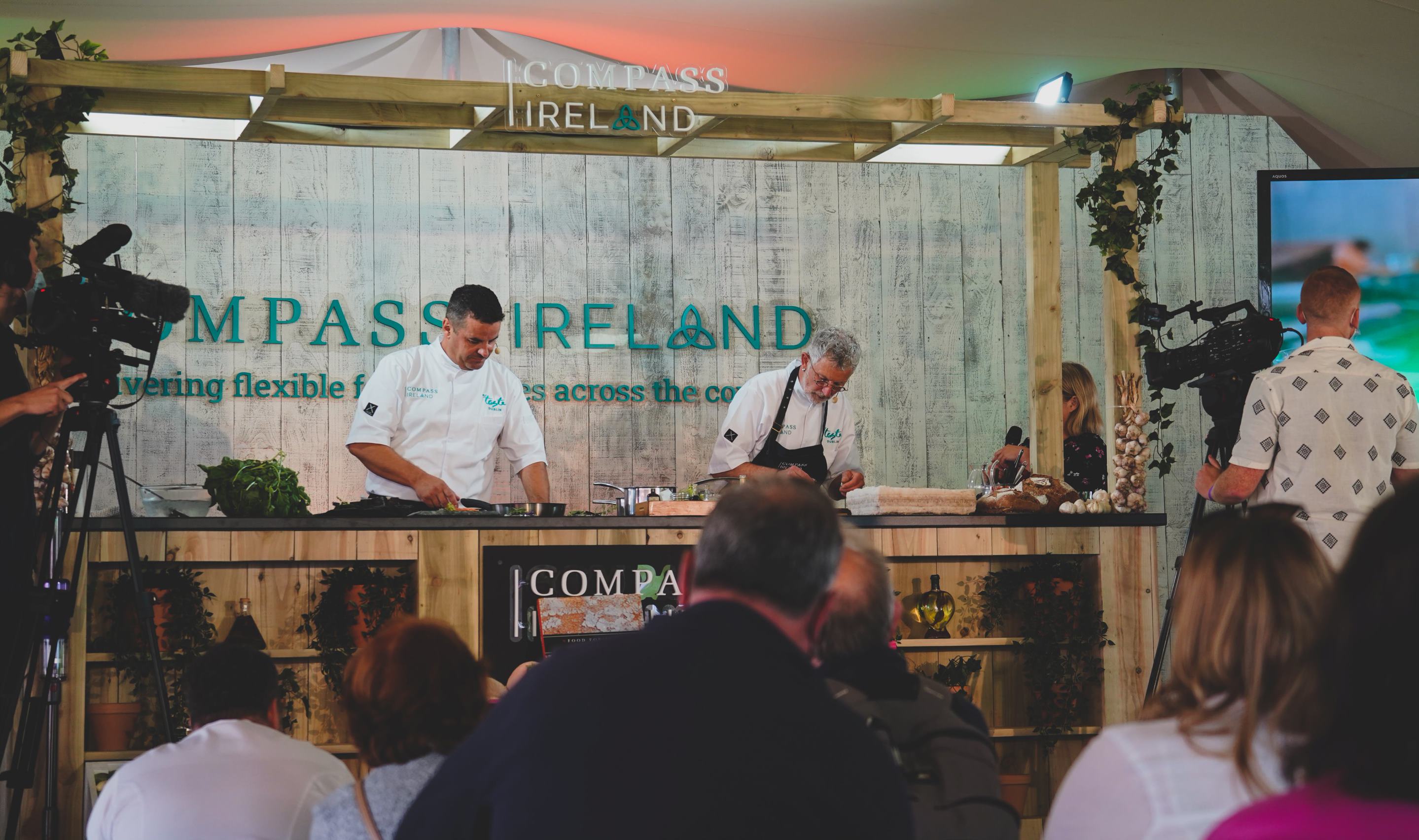 Over the five days that followed, we proudly welcomed a jam-packed line-up of TV personalities, social media stars and restauranteurs to the Taste Theatre, importantly, featuring a chef line-up that included more female representation than ever before (almost 50%). 
Welcome to The Green Room 
What star-studded event would be complete without a swanky Green Room? Well, we like to do things differently, building a luxurious allotment themed getaway next to the Taste Theatre allowing chefs, clients, suppliers and a host of VIP guests to kick back and relax throughout the day.  
Waiting for them was a delicious 5-course tasting menu, curated from some of the finest local food vendors attending the festival. It was a nod to the recently announced Irish Village Markets partnership, offering Compass Ireland customers access to yet even more variety, whilst supporting local food businesses in the process.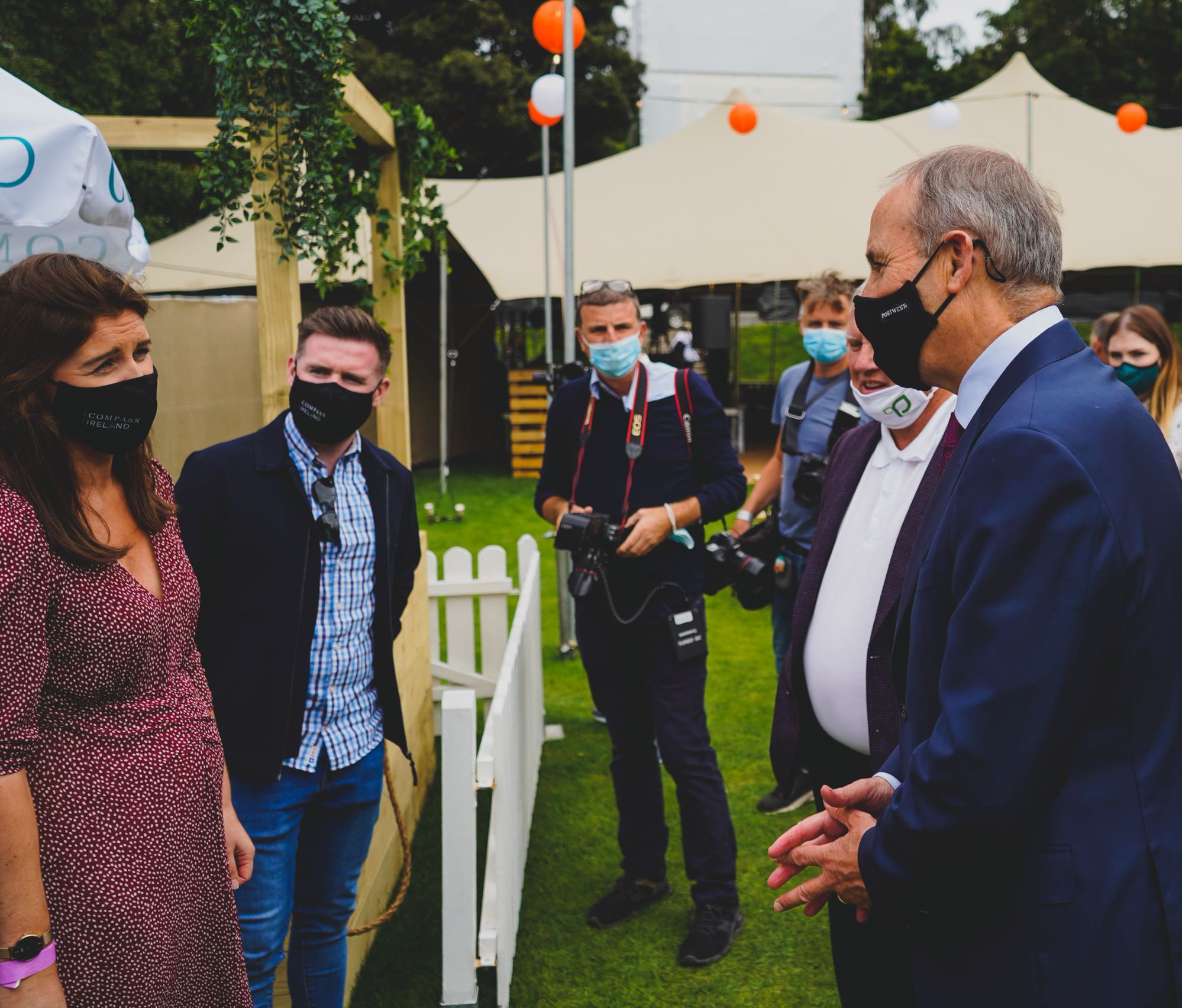 Highlights from the menu: Rock Oysters from King Sitric, Tuna Poké Tacos from The Salty Buoy and a triumphant Iveagh Gardens Tea Brack topped with St Toal Crottin Goats Cheese and a Raspberry & Elderflower Compote by The Cupcake Bloke. 
The team at Classic Drinks elevated the experience further through some inspired wine pairings; a wonderfully balanced Villa Huesgen Kabinett Riesling proving to be the pick of the bunch.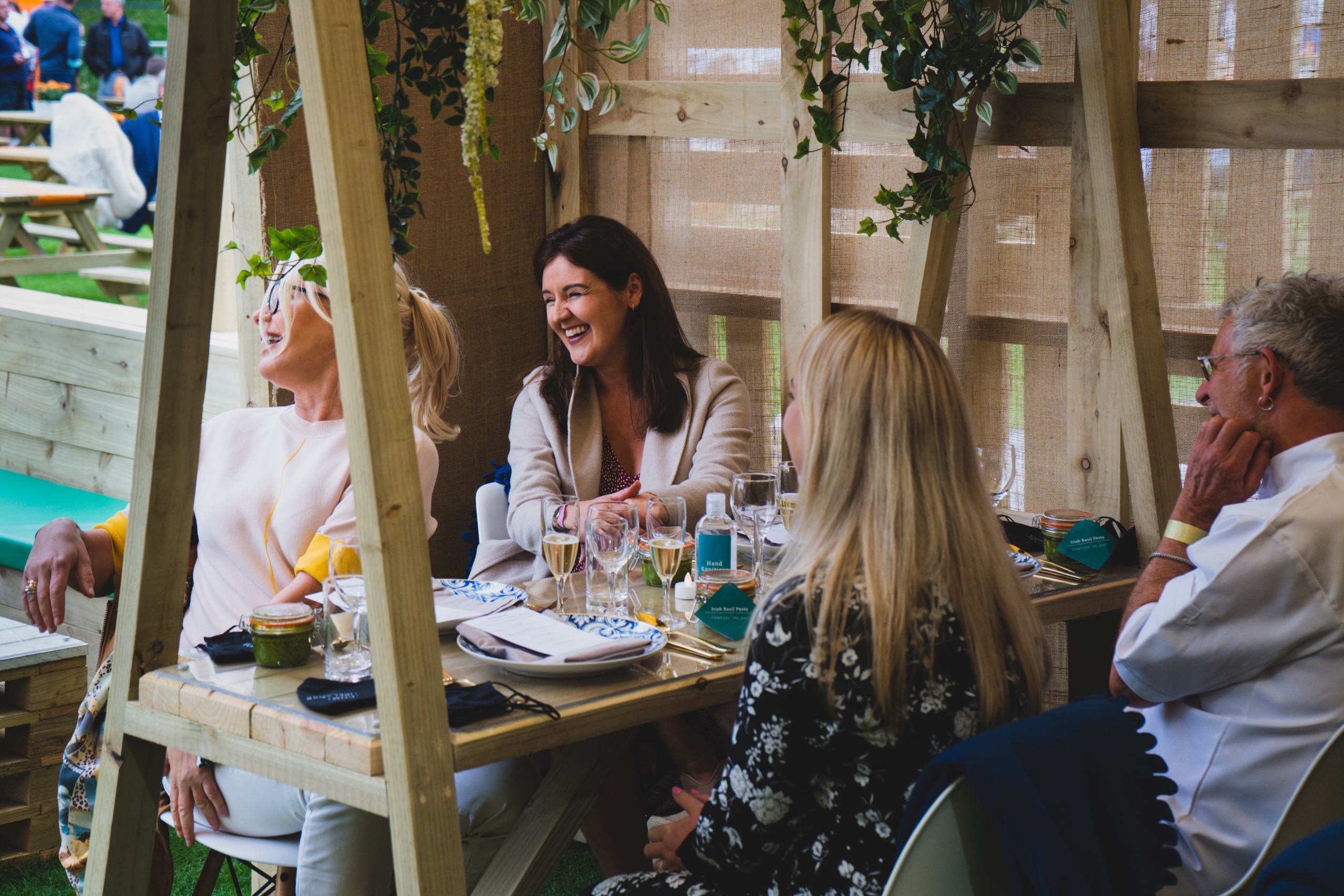 Five busy days of wining and dining, not to mention a flying visit from Taoiseach Micheál Martin kept the concierge firmly on their toes, even so, the team can't wait to break out the Green Room at the next big Festival: keep your eyes peeled! 
Putting our suppliers centre stage: Food 4 Thought 
It's important to appreciate the people who make all of this possible: the talented growers of Ireland's very best ingredients.  
Compass Ireland currently spends over €35m across 180 Irish food producers every year, with that number set to grow considerably in the near future.  
With that in mind, a selection of our finest supply chain partners were invited to join host Dee Laffan on the Food 4 Thought stage to share a snapshot into 'life on the farm.' 
Big thanks go out to Brian and John O'Reilly of Emerald Greens Farm, Lynsay Orton of Ross Hazel Farm, John Kenny of Atlantis Seafood and Bernard Cronin of The Wonderful Barn Garlic Company for shedding any nerves and acquitting themselves so well under the spotlight.  
No sooner had they left the stage, it was time to join Team Compass Ireland, taking part in a very special initiative due to be launched in just a few weeks' time. We can't share too much more information at this point, but just look at that commitment!  
Watch this space…

A final note 
To the legion of culinary talent that graced The Taste Theatre Stage, our suppliers who showed everyone just why we value them so much, the VIP guests in attendance at our Taste Green Room, the 000's who ate, drank and mingled their way through five days in the beautiful Iveagh Gardens, a huge thank you to you all: see you next year! 
For those who didn't get the chance to attend, you can watch the video below to catch a few of the festival's best bits!