Compass Ireland Set Their Sustainability Sights On Net Zero
Radical change requires radical thinking, and that's exactly what's on the menu at Compass Ireland, the nation's leading food service provider.
Having announced an ambitious commitment to reach Net Zero greenhouse gas emissions by 2030, boosted by a €1m investment fund to support the development of carbon reduction and sustainable food production initiatives, the company has wasted no time - or imagination - in getting the ball rolling.
Named 'Most Innovative Foodservice Provider 2022' by the All-Ireland Business Foundation (AIBF) for the second year running, it should come as no surprise that some of their boldest sustainability initiatives have come fresh out of the leftfield…
Could the Insect Kingdom close the loop on Food Waste?
Did you know? Food waste accounts for a third of all human-caused greenhouse gas emissions and generates 8% of greenhouse gases annually.
Compass Ireland approached Hexafly to combine the forces of nature and technology to bio-convert food waste into high-quality protein, oil and fertiliser.
The Hexafly model offers virtually unlimited capacity: an inexhaustible well of protein where nothing goes to waste, thanks to the efforts of the humble black soldier fly.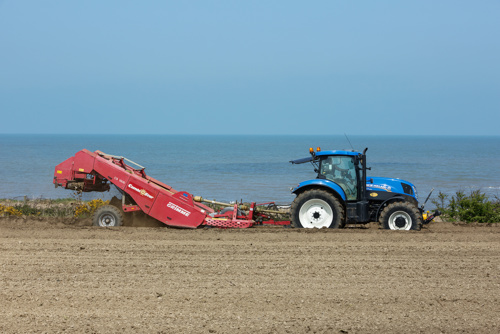 Here's how it works…
Surplus food from Compass units is delivered to Hexafly. Employing the help of a colony of black soldier flies, the food waste is broken down to create feed for the fly larvae. The larvae are turned into pellets (dried larvae) producing a nutrient-dense insect protein, high in Omega 3 and calcium suitable for birds, reptiles, and fish.
Alternatively, the larvae can be converted to 'Hexafrass,' a slow-release organic soil improver and fertiliser suitable for agriculture, horticulture and gardening.
It's a truly fascinating, closed-loop recycling system, which asks a pressing question about the efficiency of traditional protein farming.
To put things into context: the typical poultry farm produces approximately 125kg of protein per acre…
Hexafly are capable of producing between 450,000 > 900,000kg of protein per acre!
The dots between Hexafly and Compass Ireland's extensive supply chain are already being connected. In just over 3 months, almost four tonnes of food waste have been bio-converted.
Lyndsay Orton, owner of Ross Hazel Farm is currently utilising Hexafrass to fertilise her fruit and veg farm, with other farms set to follow suit as Hexafly continue to increase their conversion capacity.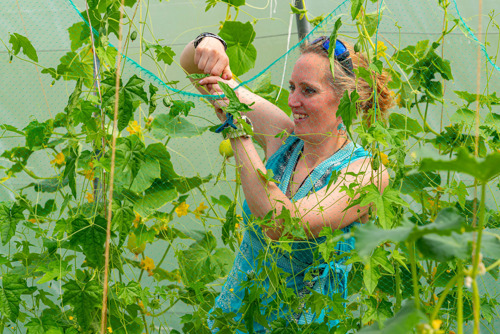 Hydroponic Herbs
In an award-winning local sourcing initiative, Compass Ireland approached Brian O'Reilly, owner of Emerald Greens to support Ireland's first-ever commercial-scale vertical farm.
But what is a vertical farm we hear you ask?
Vertical Farms produce crops on vertically stacked shelves under LED lights within temperature-controlled grow houses. Plants are nurtured in a soilless environment eliminating the need for pesticides or herbicides.
But why bother? Another good question! Take basil as an example.
Ireland's climate typically allows for three months of basil growth in any one year, leading to a reliance on imports from countries such as Italy and Israel to supply basil for the remainder.
The carbon impact of the air-freight is substantial when considered at scale. Now multiply that across '00s of herbs that cannot be grown traditionally all year round and you begin to see the big picture.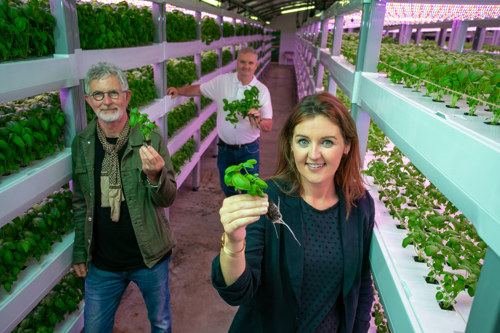 Compass Ireland enlisted the help of long-term distribution and wholesale partners Readychef, who agreed to take 25% of the entire Emerald Greens basil yield - 50 kg a week - guaranteeing owner Brian O'Reilly sales and growth opportunities in exchange for exclusivity in the contract catering market.
In doing so, Brian can re-invest into his facility and is looking to open a second vertical farming tunnel by December 2022. What's more, is that the energy required to run the initiative is entirely renewable, with power coming by way of a set of wind turbines located on his farm.
'This deal is a game-changer for our new vertical business at a critical time in our development. It gives us much-needed security and allows us to plan ahead and make a success of this new way of growing fresh produce year-round. We are no longer export-dependent as a business. Instead, we are showing other producers a more sustainable way of growing a greater range of fresh green produce here in Ireland for the local market.'
- Brian O'Reilly, Emerald Green Vertical Basil Farm
Owing to the success of Brian's Basil, Compass Ireland are trialling micro-greens and herbs to further novate the international supply of exotic produce over to local artisans.
A National Procurement Award in the field of Innovation was the reward for the combined efforts of Compass Ireland, Emerald Greens and ReadyChef. With the initiative set to expand, expect to hear more about the hydroponic revolution very soon...
Rocking The Roadmap 
Just over a year has passed since 'Our Climate Promise' was officially announced, a bold commitment made by Compass to register zero net carbon emissions by 2030.
The commitment was accompanied by a comprehensive roadmap containing some of the most important sustainability milestones the business was aspiring to hit.
Remarkably, several of those goals have already been achieved, most notably banning air freight of fresh fruit and vegetable produce across the organisation. The ban sees Compass Ireland focus on further increasing the use of local and seasonal products.
The company's vehicle policy has undergone a complete overhaul, which will see 100% of diesel and petrol fleet cars replaced by cleaner, electric alternatives by 2024.
Out in the field, chefs are promoting the Planet Promise campaign and delivering climate-friendly menus. These recipes represent low-carbon options containing local, seasonal and plant-based ingredients. At the time of writing, over 70% of the entire Compass Ireland product range is sourced from suppliers located on the emerald isle.
And there's more to come.
Compass Ireland are currently finalising a pioneering plan to trial site-based bio digestors to turn food into fuel and fertiliser, which would represent the biggest leap to date in the fight against food waste.
Net Zero, Hexafly, Hydroponics…Why does it all matter?
Simply put, the organisation is supporting the fight to limit global temperature rises to 1.5°C above pre-industrial levels in line with the Science-Based Targets Initiative (SBTi) criteria.
The SBTi's Corporate Net-Zero Standard is the world's first framework for corporate net-zero target setting in line with climate science.
Deirdre O'Neill, Managing Director of Compass Ireland was keen to weigh in on the importance of the task at hand:
 'As the leading force in the food service industry, it's our responsibility to set the tone on the fight against climate change.
Over the past two years, we've accelerated plans to hyper-localise various elements of our operation, focusing heavily on our supply chain to help realise the biggest impact.
We've worked hard to build a collaborative culture with both our clients and suppliers, which is helping the business to action impactful organisational change on a massive scale.
We don't see the mission as a burden but as an opportunity to explore sustainable innovation at pace. I find that quite an exciting prospect!'
You can learn more about the devastating projections detailed by The Intergovernmental Panel on Climate Change here.
Resources