An Introduction To The Compass Ireland Gender Pay Gap Report
We believe in being transparent and accountable, and the Gender Pay Gap Report serves as a valuable starting point to understand the gap in the average pay of all men and women across our organisation.
By publishing the first report of many to follow, we can draw a line in the sand, setting a benchmark to which we can hold ourselves to task.
Despite performing favourably against our industry peers in our first-ever published report, we're acutely aware of the hurdles we must still overcome to level the playing field.
Make no mistake, we are fiercely committed to this process.
Only through continuous effort and self-reflection can we create a truly equal and inclusive workplace, and there are several encouraging signs that our efforts are beginning to take root.
Endorsement From The Top
62.5% of the Compass Ireland Executive Leadership team is female and women make up almost half of our senior leadership teams (45%). Having this level of representation occupying the upper internal echelons of our business will serve to inspire more women to join the business, and fast- track our progress towards achieving our gender pay gap goals.
Inspiring Women to Join The Industry
In 2022, we appointed Michelin Starred Head Chef Danni Barry to spearhead our pioneering Chef apprenticeship programme.
We've partnered with the City of Dublin Education Training Board to deliver the two-year Commis Chef Apprenticeship course with plans to roll out further regional programmes in Galway, Limerick, Cork and Belfast.
By championing successful and influential female role models, we hope to inspire more talented women to join the food services industry.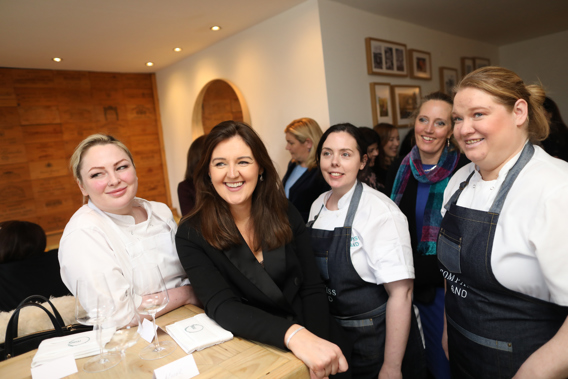 Women in Food
Since its creation in 2016, our Women in Food Ambassador Network continues to gain momentum.
As well as focusing on growing the female culinary talent within our business, it seeks to represent women across Compass Ireland with a focus on celebrating and attracting diversity, supporting development at all levels, and creating a safe and supportive environment where members can network and thrive.
In March this year, we'll be hosting our second Annual Women's Day Networking Lunch, leaning on our Women In Food Network to deliver an unforgettable afternoon of culinary exploration and valuable networking opportunities.
"As we look ahead to 2023, I'm proud of the positive progress we've made to support women to grow their careers at Compass Ireland.
We've shined a spotlight on the array of opportunities for women within our business and we have created clear career pathways, succession plans, and talent development practices that have enabled us to promote female talent from within the organisation."
Deirdre O'Neill, Managing Director, Compass Ireland
Read The Full Report
While we are proud of the initiatives we have implemented, we understand that there is still much work to be done to close the pay gap and create a more inclusive workplace.
Please find attached our current Gender Pay Gap Report, containing full details of our pay, bonuses and benefit-in-kind distribution.