Catering to the demands of the modern workplace
For LKQ Euro Car Parts), one of the country's leading vehicle parts suppliers, finding an efficient, reliable and around-the-clock catering solution for the employees at their Dublin site required thinking outside the box. LKQ Euro Car Parts needed a solution that could meet the demands of their fast-paced work environment without compromising on space or incurring expensive operational costs.
Recognising the unique needs of LKQ Euro Car Parts, we introduced Market Café, an unmanned Micro Market and the first of its kind across all Compass Ireland partnerships.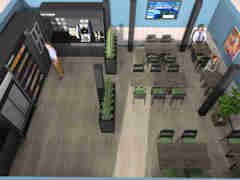 A 24-hour food experience for ECP employees
Offering 24-hour access to a wide selection of healthy snacks and drinks, including hot meals and coffee, Market Café allows LKQ Euro Car Parts colleagues to refuel at work throughout the day. Surveying LKQ Euro Car Parts colleagues before mobilising Market Café to their Dublin site meant we were able to create a rewarding food experience that continues to exceed their expectations.
From Market Café, LKQ Euro Car Parts colleagues can purchase food to go including salads, sandwiches, healthy snacks and drinks, traditional confectionary, and much more in a casual and comfortable dining environment. Introducing a 24-hour touch-screen Costa Coffee machine also makes LKQ Euro Car Parts' favourite coffee brand readily available during every shift.
Our Responsibilities
FULL CATERING

CASHLESS PAYMENT

CAFE & COFFEE

VENDING & MICROMARKET

TECHNOLOGY
Contactless catering solutions with reduced costs
To reduce long queues and congestion in LKQ Euro Car Parts' dining areas, we designed Market Café to utilise a fully contactless and cashless system. What's more, our Chip and Pin readers allow colleagues to pay for their favourite snacks and drinks 88% faster than before, in just three seconds.
Not only does a contactless system ensure a more seamless dining experience for LKQ Euro Car Parts employees, but it also enables the wider business to benefit from lower running costs. By introducing an unmanned catering solution, we have been able to keep LKQ Euro Car Parts' operational expenses down while providing an exceptional food experience.
Tailoring our catering solutions to the unique and often complex needs of our partners allows us to ensure a personalised food experience every time. To find out how choosing Compass Ireland as your food service provider could be valuable to your business, contact us today.
More Case Studies
Vodafone

Find out how we've supported Vodafone's mission to deliver on impressive sustainability initiatives through truly tailored food services.

Squarespace

Find out how Compass Ireland has shaped the Squarespace company culture through creative, responsive and employee-centric food services.