Bringing sustainable catering solutions to Vodafone
For Vodafone, finding a commercial catering partner to embrace their forward-thinking approach to employee wellbeing and sustainability was crucial. They needed to find a food service partner who could offer reliable catering services, bring health and nutrition to their 1,800-strong Dublin workforce, and deliver on their mission to operate more sustainably from their Mountain View site.  
With the capability to offer large-scale catering services that remain flexible to evolving company initiatives, Compass Ireland proved to be a fantastic match.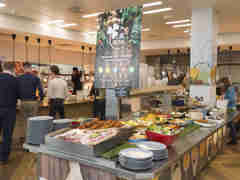 A health boosting food experience
Compass Ireland has proudly catered to Vodafone since 2002, providing efficient catering services to almost 2,000 on-site employees.
Offering nutritional options for breakfast, lunch, coffee breaks and hospitality events, with fresh juices, hot breakfast items, and deli-style sandwiches, wraps and salads available to Vodafone employees, we're proud to supply a diverse menu with something for everyone. 
Vodafone piloted the use of an in-house LIBRO app from leading nutrition software brand, Nutritics. Tablets were introduced to display allergen, nutritional and calorie information to customers at point of choice, encouraging Vodafone employees to make better, healthier, and more informed meal planning decisions.
In 2019, the Compass Ireland team working alongside Vodafone were proud to receive recognition from the Happy Heart Healthy Eating and Active@Work Awards for their commitment to providing spectacular catering services.  
Our Responsibilities
FULL CATERING

CASHLESS PAYMENT

ON-SITE RESTAURANT

TECHNOLOGY

SUSTAINABILITY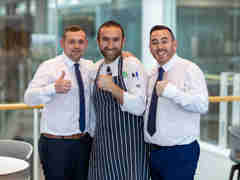 Delivering sustainable food services
Supporting Vodafone's initiative to eliminate all single-use plastics company-wide, Compass Ireland re-evaluated the use of disposable plates, cups, cutlery, and food packaging across each outlet. 
 As of February 2019, we have removed all single-used plastic drinking cups from across Vodafone's Dublin site and replaced them with reusable alternatives and drinking bottles. As a result, we estimated that up to 250,000 cups could be removed from the Vodafone waste stream per year.  
Combining our experience in large-scale commercial catering with our ability to introduce fresh new ideas has allowed us to achieve exceptional results for Vodafone's employee health and sustainability initiatives.  
Find Out More
To find out how choosing us as your food service provider could make an impact for your business, contact us today.  
More Case Studies
Squarespace

Find out how Compass Ireland has shaped the Squarespace company culture through creative, responsive and employee-centric food services.

LKQ Euro Car Parts

Find out how choosing Compass Ireland as its food service partner has helped LKQ Euro Car Parts provide a seamless food experience to its Dublin colleagues.