Belfast's favourite catering company
A small city with a huge heart, as described by our Regional Operations Manager, James McCoy, Belfast is packed full of character, great businesses, and more than 160 members of the Compass Ireland team!  
We're proud to deliver exceptional food experiences to the Belfast area across 15 powerful partnerships, bringing our passion for flavoursome food and exceptional service to a range of businesses across the city.  
James McCoy, Regional Operations Manager
Boasting more than 12 years of experience within our dedicated leadership teams, alongside an impressive portfolio of winning campaigns for household name brands, James McCoy brings a wealth of operational expertise to our catering contracts throughout Belfast and the surrounding areas.
As Compass Ireland's Regional Operations Manager for the Belfast area, James combines an in-depth knowledge and unwavering enthusiasm for his hometown with his strategic expertise to create and deliver strategies that always achieve amazing results.
Whether he's connecting with our clients in Belfast or supporting his regional team with learning and development opportunities, James takes Compass Ireland from strength to strength with his financial acumen, creativity and strong commercial awareness leading the way.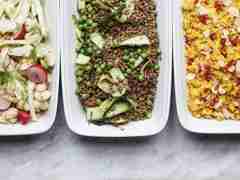 More than a food service provider
At Compass Ireland, our mission is simple: to consistently deliver excellence to our clients and their customers. Great-tasting, nutritional food is integral to productive workplaces, which is why we go above and beyond to create tailored solutions across each of our 15 catering contracts in the Belfast area. 
Our teams deliver a wide range of bespoke food services, from preparing and serving healthy hot meals in office restaurants, to ensuring our customers' have access to their favourite sandwiches, salads and snacks. We invest in understanding the needs and wants of our clients to ensure every coffee brewed, menu created, and dish served helps to build a positive work environment.  
Local Suppliers
Each of the coffee docks, mini markets, grab n' go stations and restaurants we manage throughout Belfast are brought to life with fresh, seasonal ingredients from our local suppliers.
Re-investing in the communities we operate in is part of our commitment to being Ireland's leading catering company, with our Belfast partnerships pleased to support Allied Bakeries, Keenan's Seafood, Ballygarvey Eggs and Lakeland Dairies.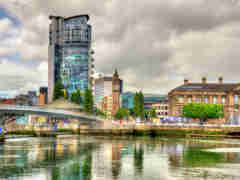 Offering the best to Belfast
As part of the wider Compass Group, we share insights, research, and best practices with our peers across the globe. This allows us to bring the highest level of expertise to our Belfast catering contracts, ensuring they benefit from our forward-thinking approach to sustainability, physical and mental wellbeing, and food service technology. 
We're proud of our Irish heritage and catering partnerships throughout the Belfast area, so we always go the extra mile to use our resources in ways that make the most impact. This means enriching our community wherever we can, such as by spearheading charity initiatives and creating exciting career opportunities.  
Contact Us
Get in touch with Compass Ireland. We're always happy to help.